Combat the fake internet
Bots, scrapers, and other automations use anonymization services to fake residential connections.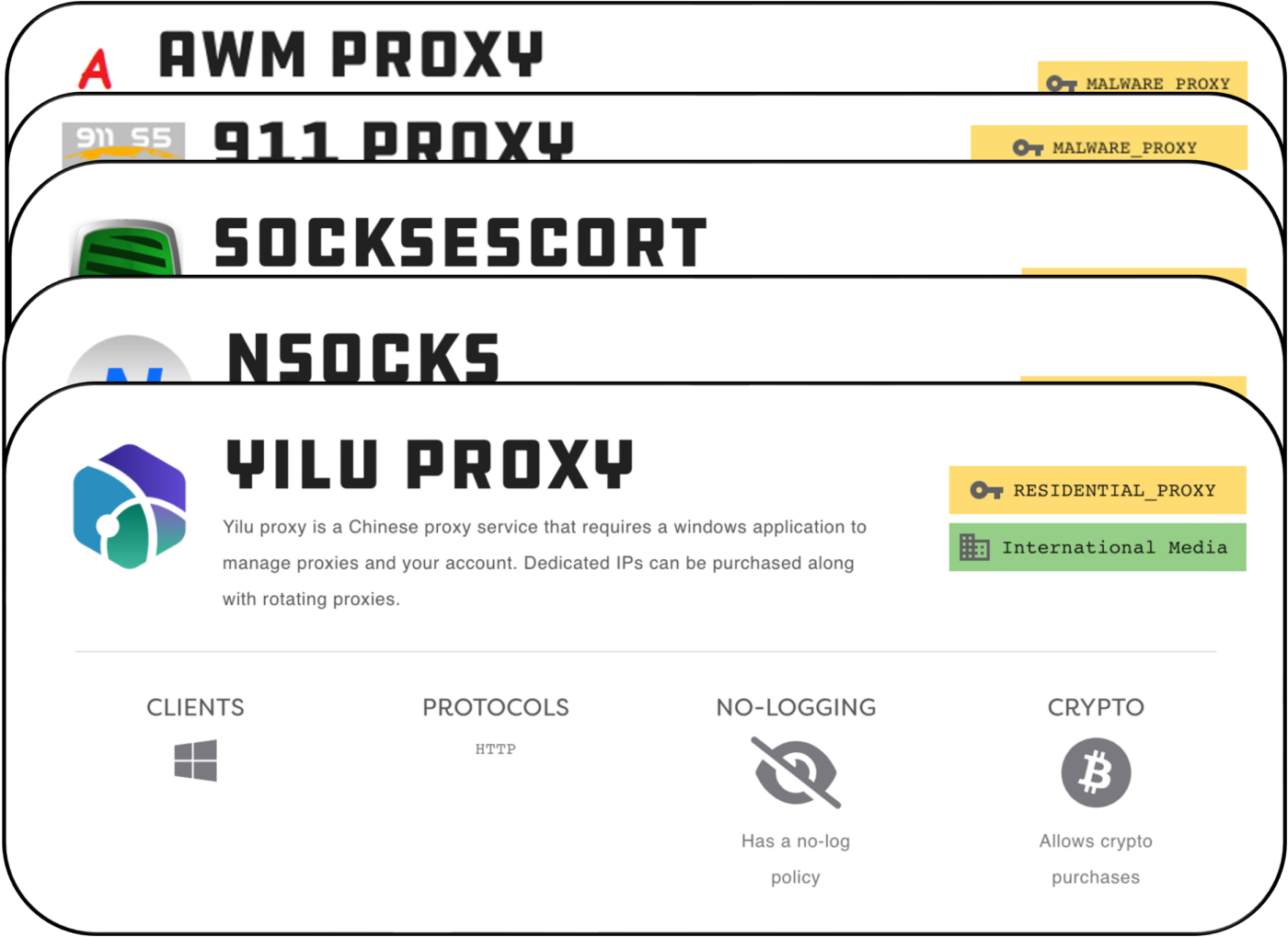 The internet's most influential companies choose Spur to secure their online applications. As leading experts in anonymization technologies, Spur has the tools you need to counter fraud, bots, and other malicious activity.
---
VPN
ATTRIBUTION
We attribute the infrastructure of over 700 different VPN and Proxy providers. Use our Context API or Data Feeds to get IP Addresses, entries, exits, and more.
---
BOT
DETECTION
Our Monocle JavaScript plugin detects interactions from automated systems, bots, malware, headless browsers, and other fake users.
---
PROXY
TRACKING
We track the infrastructure for over 50 residential proxy services in real-time. Discover and thwart scaled campaigns against your service.
01
Sign-Up for Free
Create a free account. This will give you access to our free lookup tools and documentation.
02
Explore Our Data
Use our community dashboard to explore our IP context data for free. This provides free look-ups for our most recent data.
03
Purchase Online
Integrate our data into your workflow by investing in an API license or registering your website to use Monocle.
04
Get In-Touch With Us
Want a deeper discussion of how Spur can help your organization? Get in touch with our enterprise sales team to learn more.
Our Products
Context API
Our Context API provides high-performance IP enrichments suitable for any automation platform or custom integration. We handle thousands of requests per second and are built for millions.
Monocle
A Client-Side JavaScript utility to bundle bot detection, proxy detection, and network data in-line for your web-based application. Monocle combines the convenience of a captcha with the capabilities of a Zero-Trust proxy.
Data Feeds
Use our data in your own environment. On-prem data is best for compliance, machine learning applications, scalability, and privacy. All of our data is available in new-line-separated JSON format for easy integration and engineering.
Custom Analytics
Work with us to produce a custom data feed tailored to your specific fraud use-case. We have thwarted APTs, blocked scammers, and attributed criminal infrastructure. Get in touch with our sales team to learn more about how we can help you.
Attackers have Changed
Residential proxy networks and botnets provide millions of clean, rotating IPs for attackers to use. Spur provides data on IP Addresses in these networks so that you can protect your business operations, improve security, and prevent fraud.
50,000,000+
Residential Proxy IPs
Try it for free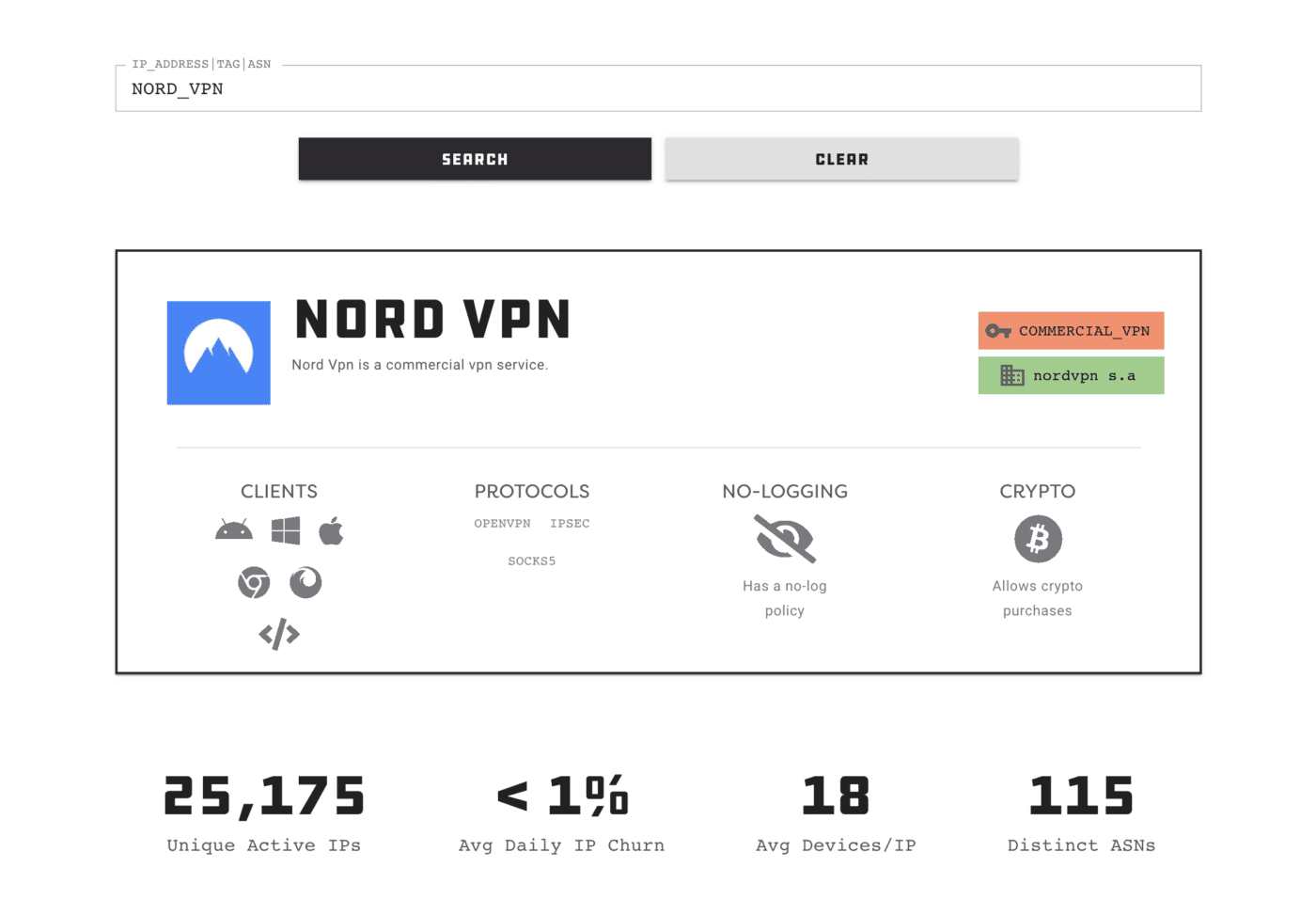 Community Dashboard
Sign up with a work email and get free access to our community search portal. Explore our data and see what sets us apart.
Quantifiable ROI
The math is simple: reducing fake activity and fraud will save your company money. Use Spur to improve your bottom line.
We Know Anonymous
Our team has spent decades battling threat-actors across every corner of the internet. We are tired of threat intelligence that lacks the context to make business decisions. Our data and APIs bring our expertise to your organization.
OUR SOLUTIONS ARE DIFFERENT
Get in Touch